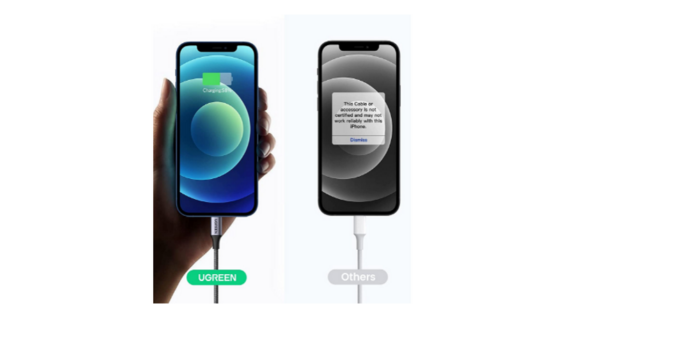 All devices made by Apple will require a lightning cable to charge. However, Apple's cables are known to be fragile and cost more than third-party cables, including ones that Apple has certified to perform exactly the same way as the accessories it owns. If you're not satisfied with the cables that came with the Apple gadget or simply want a backup for your device, then this article is for you!
The ideal iPhone charger cable powers the iPhone fast and sturdy enough to last for a longer time, without breaking. Also, it must be sufficient in length to extend to the point you require it.
Types Of lightning Cables
There are two types of lightning cables: The lightning cable to USB-A that we've been seeing since they're most commonly used and are also used with USB-A power adapters, and cables that connect Lightning for USB-C cable Apple forced us to buy by offering USB-C adapters.
No matter whether it's A B, or C, Something to keep in your mind is to only purchase charging cables that have been certified MFi and are equipped with Apple's chip which allows them to identify, connect to and transfer data between as well as from iOS devices seamlessly and securely.
The Best Type Of Lightning Cable
We believe that a USB-C-to-Lightning connection is the best option for the majority of people to recharge their Apple devices. Though many users charge their phones as well as other devices using USB-A ports, USB-C charging is quicker and is rapidly becoming more popular. However, if you're still not prepared to switch to USB-C, or prefer slow charging speeds in the time, you may buy a USB-A to-lightning cable.
Best Charging Cable to charge while using
UGREEN Right Angle Lightning to USB A Cable is one of the cables that are  MFi-certified which means it's made especially for Apple products and is guaranteed to meet the specifications laid forth by Apple.
The MFi certification will tell you all you need to be aware of compatibility. If you have the Lightning connector on your device The UGREEN right Angle Lightning to USB A Cable is ideal to use with Apple's iPhone X, iPad, and everything else.  The heads of the connection on these cables aren't necessarily low-profile designs. They're big, meaning they're easier to connect and disconnect. Even, you'll not have to take off your phone case in order for these cables. Most convenient to use. It is ideal for uninterrupted gaming while charging. It won't block your hand for better gaming.
All Over Best Lightning Charging Cable Choice
UGREEN MFi USB-C Lightning Charging Cable is surely one of the top Apple charging cable you can purchase in 2022. The USB C to lightning cable allows for a fast charge of as high as 3 A (max). You can recharge an iPhone X from 0% to 50% in just 30 minutes (with the USB-C PD Charger) which is almost two times more quickly than the standard 1A charger. The shape and length, as well as its durability, connectivity as well as MFI certification, make it one of the most desirable options for 2022.